On October 11th and 18th of 2020 the BoysGrow Farm Kitchen opened it's doors for its first event, Date Night on the Farm. New and familiar faces joined us for a night of celebrating the local chefs, businesses, and musicians that make Kansas city so unique.
Dinner on night one was an insanely delicious collaboration between Howard Hanna of CaVa and Michael Corvino of Corvino Supper Club. Chicken and Foie Gras Terrine, Crispy pork belly, and rock shrimp dumplings were a flood of fall comfort, sealed with caramel apple and cheddar pie with a scoop of vanilla ice cream for dessert.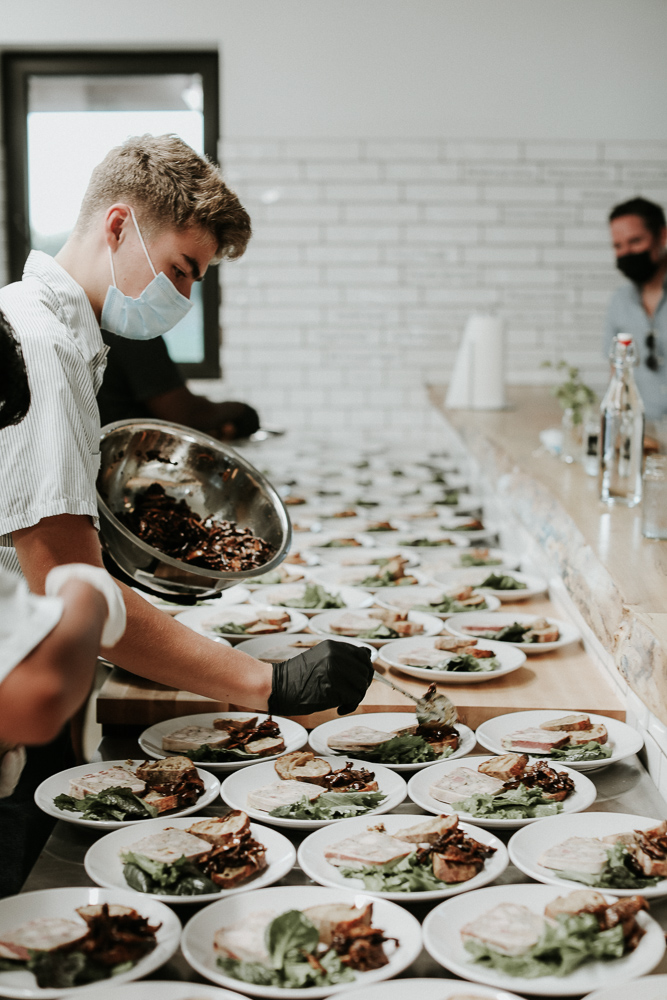 Chef Carlos Falcon of Sayachi Sushi featured an exciting menu on night two: A crudo of scallops and citrus, seafood bouillabasse, and savory duck breast with pipian. All of that perfectly complimented by Jessica and Ryan Brazeal's (Novel) apple almond cake with warm date caramel.
Beer from Brewery Imperial and our signature cocktail "Smokey the Pear" from KC Canning co. kept everyone warm and in good spirits the entire night. We were also lucky enough to have musicians Jessica Paige and Kemet Coleman performing on the bed of our 72′ Ford truck.
It was amazing being able to unite and celebrate love, food, music, and good people in the hearth of BoysGrow. The BG boys got to help every step of the way, from set-up, cooking with the chefs, and introducing new guests to what BoysGrow is all about.
We are so thankful for everyone who attended, our donors, and the folks who helped make this event happen. A huge thank you to our sponsors:
Tyler & Leigh Nottberg Family, Lynnette & Norm Siegel Family, Kemper Family Foundation, Cathi & David Brain Family, Kauffman Foundation, Hallmark, Mary & Tom Bloch Family, Michele & Jim Stowers Family