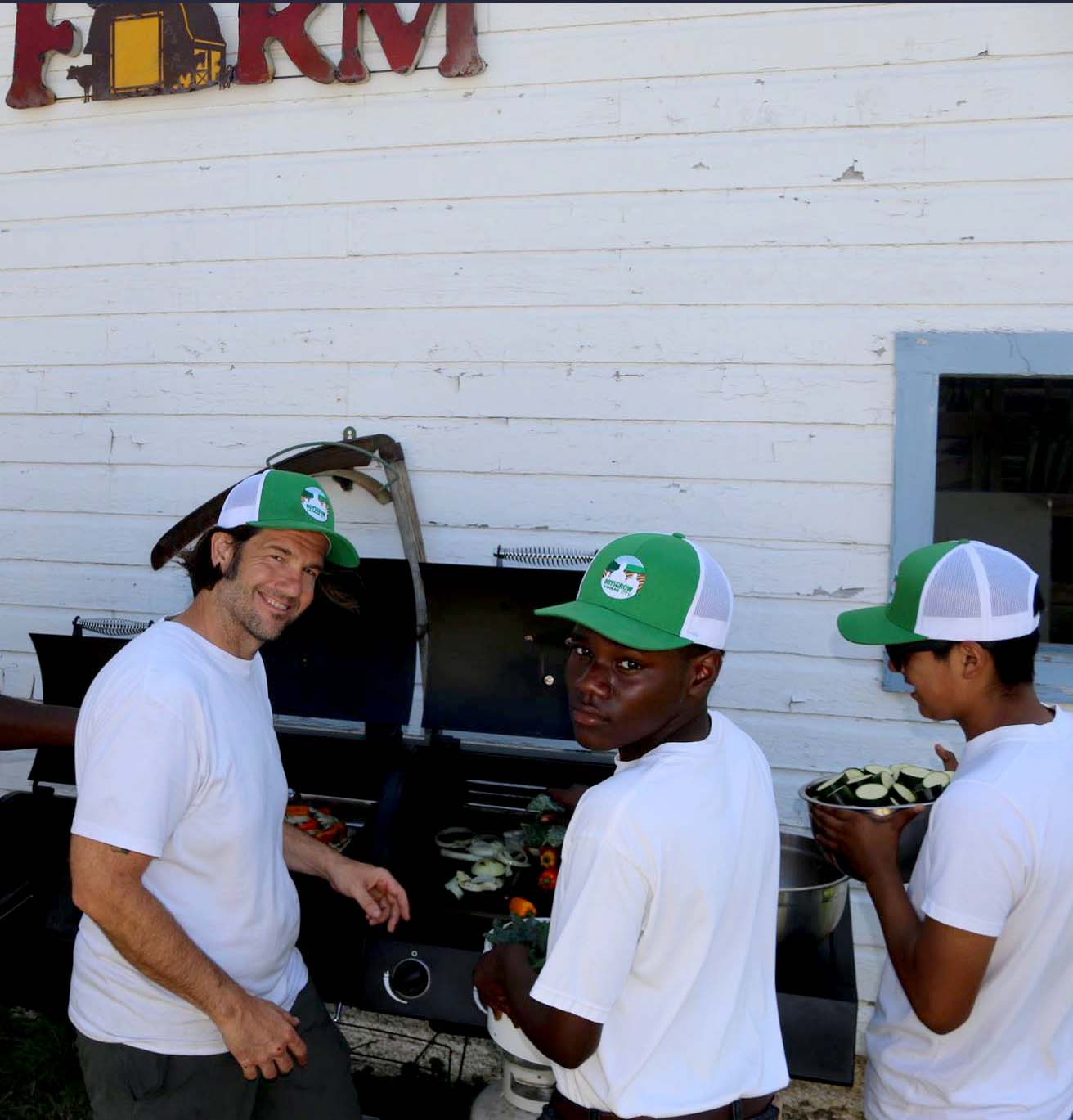 That's me, D'ari, in the middle with Chef John on the left and Dom on the right, whipping up something real good.
What the Culinary Center will mean to me.
Going into BoysGrow, I really wanted to cook. I would always ask my Aunt or Grandma if I could cook but they would say the word a teenager hates the most: the word NO.
When my Aunty introduced me to BoysGrow, she told me about the four main teams in the program: Culinary, Construction, Agricultural and Farming. As you guys might have predicted, I was instantly sold on the idea of the Culinary team because cooking is one of my passions.
I thought this program would be great, but I was nervous because I heard sometimes it was hard to get into. I was a little down at first, but my Aunt told me not to give up hope. I didn't give up hope, and good things ended up happening because of it.
On the day we received the job applications, I tried to make my first impression a lasting impression. I dressed nicely, skinny jeans and all. I made sure I asked questions to try to stand out from my potential BoysGrow mates. I thought I had made a pretty good impression on them.The only thing I thought could hold me back was that they had more applications than they had spots.
About a month later, I went in for my interview, and let me tell you, it went great. Everyone was so nice. Josh, the Farm Manager and guy who interviewed me was super funny, and I just loved everything about the farm in general. I got the job, and I was so excited to work for the first time.
This past summer was really great. I got to meet new friends/Boys Grow family, and I got to make bonds with the staff and the boss. I got to cook amazing meals three days a week for the BG family along with Leroy, Dom, Junior and D'Ontay, who are on my Culinary Team.
We've created some lasting memories as well. One time, D'Ontay was making whipped cream for our strawberry shortcake, and he whipped so long it became butter. We all had a good laugh at that. We laughed together as a family.
Late last summer, I started hearing about a Culinary Center that was going to be built on the farm. I was kind of happy, but then I started thinking about all the memories I had made over the summer in that BoysGrow kitchen. After a while, I realized that old memories shouldn't stop me from making new ones. The Culinary Center will give me the chance to make new memories, and it will also give me the ability to learn and try out different things that weren't available in the BoysGrow kitchen. We will have real equipment to teach us how to be chefs.
The Culinary Center will mean new ways to cook and the ability to pass down what I've learned to the next class of my BG Family.
---